Beijing-Hong Kong, CHINA, October 13, 2021 – Finally, the ramp to launch of the Black Shark 4S Series has finally ended and the Black Shark 4S and Black Shark 4S Pro are now official; with Black Shark 4S Gundam Edition. The two smartphones have similarities in both designs and specifications
Black Shark 4S and Black Shark 4S Pro
The body of the Black Shark 4S Gundam Edition follows the free Gundam's iconic red and blue color combination, as well as the official depth of customization of the Gundam theme, boot animation, wallpaper, theme UI, and so on. From the inside out, the machine is instantly identifiable.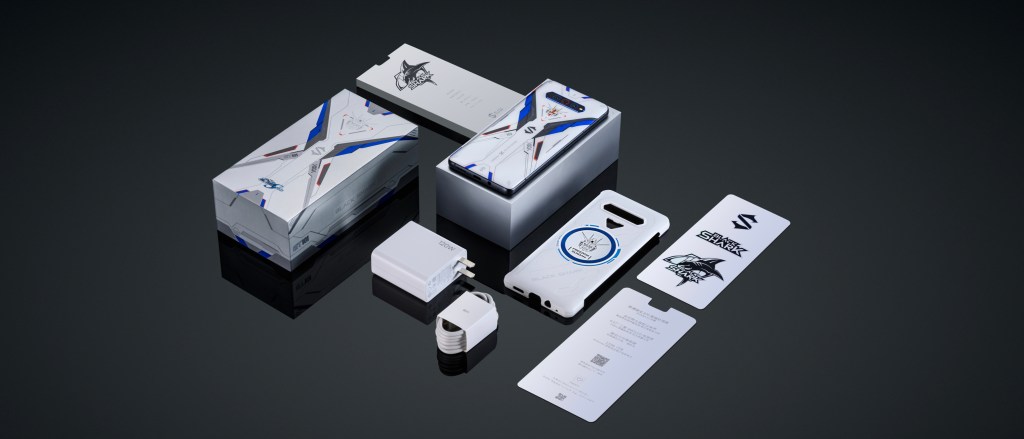 Black Shark 4S Series' display uses a 6.67-inch Samsung E4 AMOLED screen, resolution 2400 x 1080p. It supports a 144Hz refresh rate + 720Hz touch sampling rate. Also, it features a multi-finger touch delay as low as 8.3ms, 1300nit peak brightness.
Black Shark 4S Series boasts its core configuration for a gaming phone—equipped with a Snapdragon 870 chip for the standard version while Snapdragon 888+ for the pro version, LPDDR 5 memory plus UFS 3.1 flash memory, and PC-grade SSD storage chips in a RAID setup, enabling faster reading and writing speeds than the rest of the phones in the market.
In addition, both the standard variant and pro variant have a 4500mAh battery, support a 120W-wired fast charging, and claim to be fully charged with 100% power in less than 15 minutes. Xiaomi and Black Shark do not give a word if the 120W should be called HyperCharge.
The series also adapt the buttons need for your mobile games or gameplay. They have magnetic powerlifting shoulder keys, support single-key triggering of double keys, and more expandable gameplay, as well as all systems, support dual-zone screen pressure sensitivity 5.0, support 7-level force adjustment, and pressure-sensitive button intelligence mapping and other functions, in addition to voice control, somatosensory control two shortcuts.
Built-in liquid cooling system 2.0, with a large area of 5.27 inches square high-cavity liquid-cooling-plate touch directly cooling on the front of the motherboard, and a three-dimensional capillary structure of the strip power pump through the cooling plate, accelerating the liquid flow inside the liquid cooling, allowing it to quickly dissipate heat, and a 0.78 inches square liquid cooling tube on the back of the motherboard, forming a three-dimensional heat sink.
In the camera section, both phones offer a different approach. The Black Shark 4S has 48MP main camera (IMX582) + 8MP ultra-wide-angle + 5MP macro. On the other hand, the Black Shark 4S Pro upgrades the main camera to 64MP while the other two are unchanged.
In addition, the series has features such as RAM-extension technology, Shark Shark Sauce, Smart Magic 2.0, symmetrical dual speakers, Z-axis linear motor, and NFC.
Prices
Black Shark 4S Price

8GB + 128GB version priced at ¥2699 (~₱21,237.30).
12GB + 128GB version is priced at ¥2999 (~₱23,597.87).
12GB + 256GB version is priced at ¥3,299 (~₱25,958.44).

Black Shark 4S Gundam Limited Edition Price

12GB + 256GB version is priced at ¥3499 (~₱27,532.16).

Black Shark 4S Pro Prices

12GB + 256GB version for ¥4799 (~₱37,761.31).
16GB + 512GB version is priced at ¥5499 (~₱43,269.32).
Articles To Read: