Vietnam, March 21, 2021 – A leaker on Twitter named CEO of Chun Corp (Tet forever) posted an invitation from Xiaomi Vietnam about the new POCO phones. Based on the photo-leaked invitation, POCO F3 may go live on March 22 alongside POCO X3 Pro.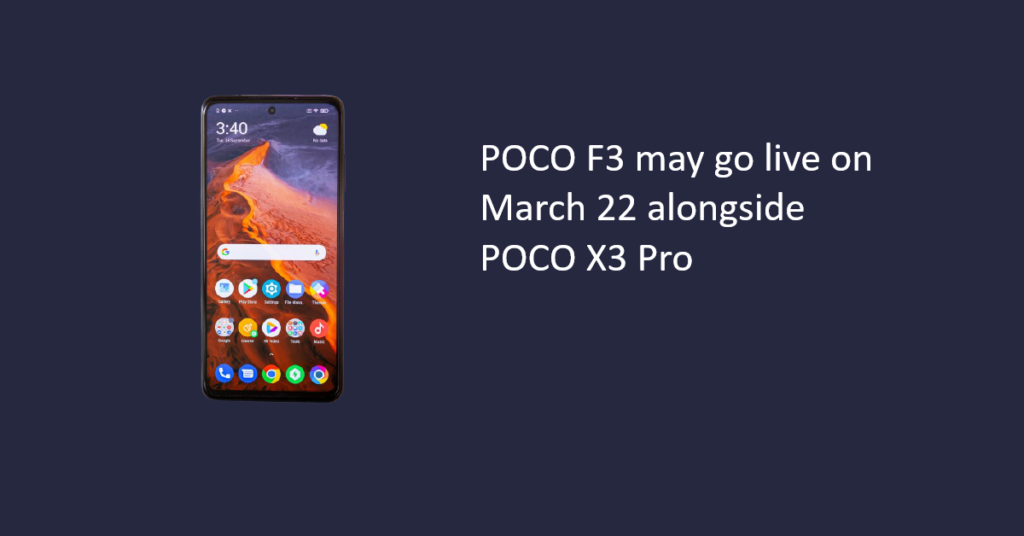 Chun Corp (Tet forever) captioned the post with "So Xiaomi Vietnam started to sending the invitation about new POCO phones. And Xiaomi VN clearly mentioned the POCO X3 Pro and POCO F3 in the invitation, so alongside the X3 Pro which I posted 2 days ago the POCO F3 also released in March 23rd."
If we will go back to our previous articles, we'll find out that the POCO F3 is the rebranded unit of Redmi K40. This is the reason why the handset is very popular right now. If you want to know more about its camera prowess, performance, and other excited features read this: THE REDMI K40 (POCO F3) – BUDGET KING OF Q1 2021. You can also watch our YouTube hands-on vlog review of the Redmi K40 (POCO F3).
POCO is an independent brand born out of Xiaomi Corporation. As of now, POCO has entered more than 35 global markets within three years. In 2020, the brand has shipped over 9 million POCO phones globally. The first product was released in 2018 – POCO F1 – swiftly propelled the brand in popularity among technology enthusiasts and media, all thanks to its incredible performance, reaching over 2.2 million shipments.
Currently, POCO has an independent product, sales and marketing team, and shares resources from Xiaomi in manufacturing and after-sales. POCO is a consumer technology brand, based on the philosophy of 'Everything you need, nothing you don't' with a key focus on its POCO fans' requirements. It's built on relentless pursuit of technology which its fans truly need, thus democratizing decision making and continuous product updates to ensure relevance.