The Capital City of Beijing, China – June 28, 2021 – Finally, Xiaomi releases Mi TV 6 Extreme Edition and Mi TV ES 2022 in China. The company goes head-to-head against its rivals on high-end TVs. The Mi TV ES 2022 starts at Yuan 3,399 (~PHP 25,529.32) for its 55-inch base version. Meanwhile, the Mi TV 6 Extreme Edition Starts at Yuan 5,999 (~PHP 45,057.49) for its 55-inch base version.
The Xiaomi Mi TV 6 Extreme Edition
Xiaomi boasts the Mi TV 6 Extreme Edition with unbeatable prices and unbeatable specs. Well, they are wrong with their claim as the extreme edition has a thin and light design – powered by the MediaTek MT9950 processor, and they paired it with a 4.5GB of RAM and 64GB storage.
While the brain is packed with so much power and room for storage – and its design is very Xiaomi, the display is phenomenal. The Mi TV 6 Extreme Edition sports a 4K QLED screen with a 97 percent DCI-P3 color gamut and 178-degree, wide-viewing angle. In addition, the display can do 1,200 nits of brightness and has 10.7 billion colors.
Xiaomi emphasizes the importance of having a 3D LUT film industrial-grade color correction technology, a 120Hz refresh rate, and the IMAX Enhanced and is also optimized to be used as a large gaming display as well.
The TV also has an ultra-thin bezel, a full-metal body, Dolby Vision, and HDMI 2.1 + VRR support, which is my bias spec personally as it is a feature for gamers.
In addition, Xiaomi says that the 55-inch model has 100-backlight partitions, while the 65-inch model has 224-backlight partitions, and the 75-inch model has 255 partitions. These proportions enable every variant to provide better brightness, better contrast, and better picture quality.
To us, the 100W audio system and its dual AI camera with a 48-megapixel main sensor are something innovative on this TV. We love how Xiaomi wants to normalize the existence of front cameras on TVs, so people can use TV either for gaming and streaming or for meetings.
The Xiaomi Mi TV ES 2022
The Xiaomi Mi TV ES 2022 doesn't offer the same processing prowess that the extreme edition offers. However, it offers a great performance thanks to its MediaTek 9638 and paired with the same RAM 4.5GB, and the same ROM 64GB.
Just like the extreme edition, the Xiaomi Mi TV ES 2022 also has a backlight partition system that varies on the model. The 55-inch variant has 32 partitions, while the 65-inch model has 45 partitions, and its 75-inch model has 60 partitions. In addition, it has a 97% screen-to-body ratio.
Although the TV is thrifted, you won't feel that Xiaomi tailored it to be a budget TV. The TV's display supports HDR 10+ and it covers 94 percent DCI-P3 color gamut. It has a maximum brightness of 700 nits. It supports MEMC technology and has a two-channel 12.5W four-unit speaker system with support for stereo playback. There's XiaoAI voice assistant support, 2GB RAM, 32GB storage, and connectivity options include Wi-Fi and Bluetooth v5. Ports include 3 HDMI ports, 2 USB ports, one AV port, one ATV/DTMB, and one S/PDIF input.
Above all, it's also worth mentioning that the Xiaomi Mi TV ES 2022 is capable of standard HDMI2.1, in which Xbox officially recommended display equipment.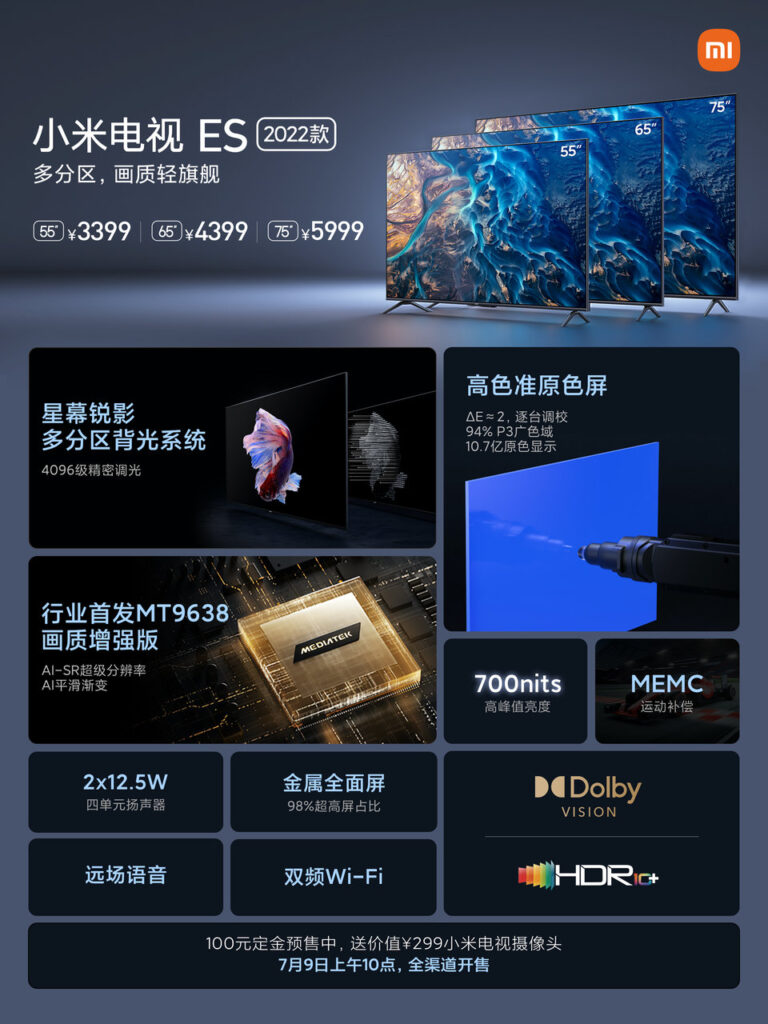 Source (Chinese).
Recommended Articles