Pasig, Metro Manila, Philippines – February 25, 2021 – Xiaomi Philippines, one of the leading ecosystem brands in the Philippines, released the Mi Electric Scooter Pro 2 Mercedes-AMG Petronas F1 Team Edition for ₱34,990. Xiaomi Philippines also releases Mi 11 and Mi Vacuum Cleaner G10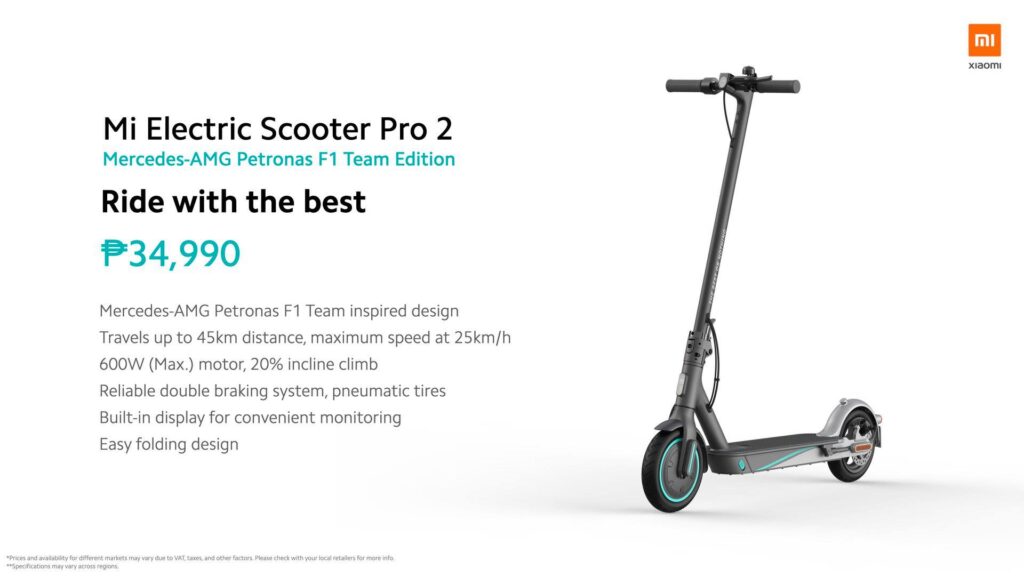 Mercedes AMG Petronas F1 Team is a racing team that dominates F1 for years. Having both high speed and skilled drivers, the team has benefitted to a great extent. Mercedes acquired excellent racers in their team who have quite a lot of knowledge of strategies and speed. Moreover, their hybrid technology of cars makes them one of the finest and excellent cars in the F1 racing realm.
So, what makes the Mi Electric Scooter Pro 2 Mercedes AMG Petronas F1 Team Edition special aside from combining design elements from Mercedes-AMG Petronas F1 Team with Xiaomi's world-leading scooter engineering? Well, let me give you its specs and features, so you can find it yourself.
Firstly, Xiaomi always aims to provide an outstanding experience that truly enhances the quality of life to achieve this, the scooter has a 25km/h maximum speed with 600W maximum power. They also provide great performance and speed by letting you have a 45km long-range battery power and 20% incline climb to help your travel get a hard time inclining to an inclined road.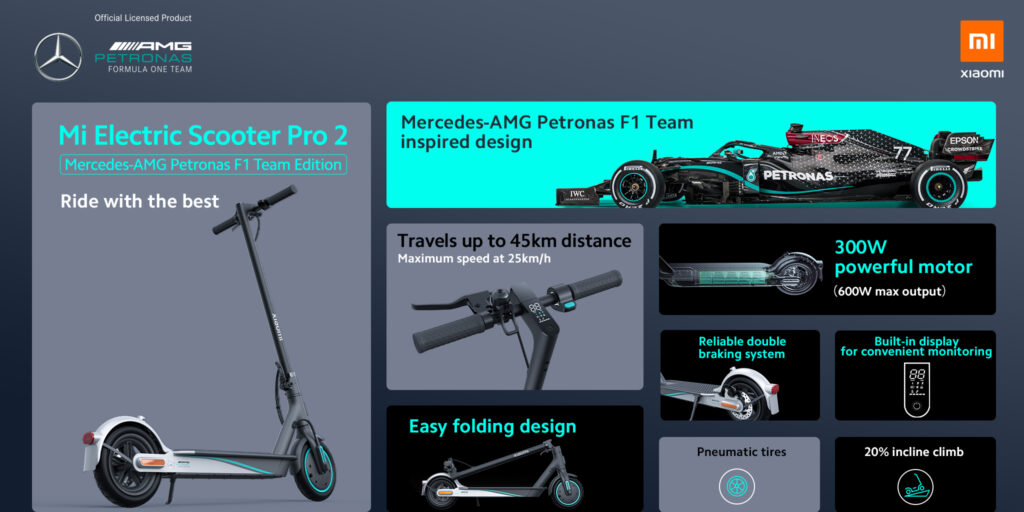 For easy monitoring of your parameters, Xiaomi put a built-in display. It is made of LCD. This display helps you check your real-time speeding, speeding modes, Bluetooth connection, headlight status, all at one glance. You can also see the mileage, battery status, and speed of your scooter using the Mi Home App.
Not only this scooter is packed with wonderful and helpful features, but it also gives safety features. The product has high-brightness headlights with 10 meters in range. Four reflectors are also present on both sides, in front, and at the back. This Mercedes-AMG Petronas F1 Team Edition scooter from Xiaomi also has a double braking system (eABS+disc brake).
More specifications
Dimension (unfolded): 1180mm in height and 1130mm in length
Dimension (folded): 490mm in height and 1130mm in length
Weight: 14.2kg
Rated power 300W
Max. power: 600W
Tires: 8.5″ front and rear pneumatic tires
Max load: 100kg
Rider height: 120cm-200cm
Range: 45km range
Charging time 8-9 hours
Controller undervoltage protection: 29V±0.5V
Working temperature: -10°C to 40°C
Storage temperature: -20 to 45°C
IP-rating: IP54
Braking: E-ABS and disc brake
Maximum Speed: 25km/h (Max speed for each mode: Pedestrian mode: 5km/h; D: 20km/h; S: 25km/h)
Package inclusions
Package contents Mi Electric Scooter Pro 2 (1)
Power adapter (1)
Hexagon wrench (1)
Extended nozzle adapter (1)
Screws (5)
Tire (1)
User manual (1)