Manila, PHILIPPINES – November 17, 2022 – Xiaomi Philippines has successfully released Xiaomi 12T Series – now available for pre-order. This series is the latest flagship-level smartphone lineup that the company will be offering moving forward and probably until the year-end. The Xiaomi 12T Pro offers the highest pixel camera capability in the country—200MP. This flagship-level smartphone seeks to enhance performance and creative ways to produce future-viral content.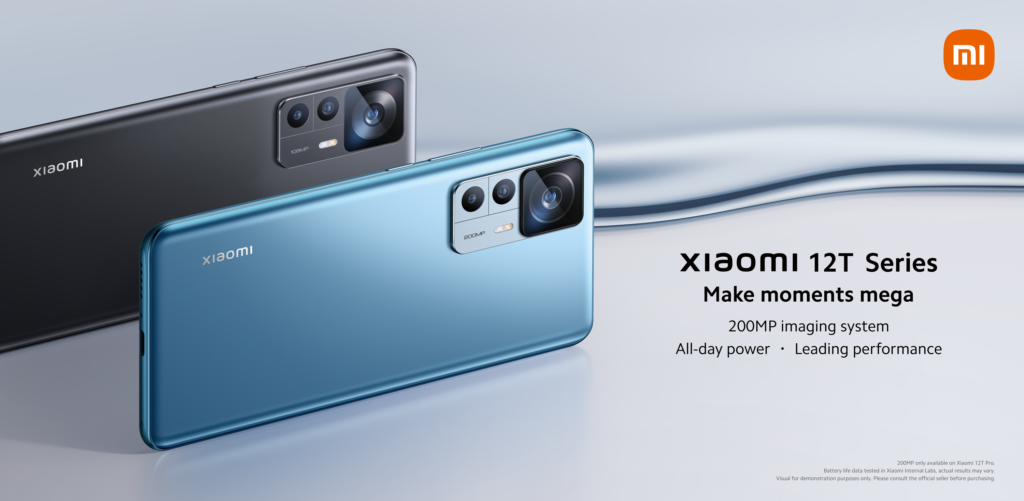 The images produced by flagship imaging systems are rich in detail.
The flagship cameras on both Xiaomi 12T handsets provide users with exceptional smartphone photography capability. The Xiaomi 12T Pro delivers superb imagery with high clarity, night photography, and quick focusing thanks to its pro-grade 200MP imaging system backed by cutting-edge hardware and Xiaomi-owned advanced AI algorithms. These, along with a number of other enhancements, enable the capture of fine details even in low-light conditions or when shooting fast-moving subjects without losing focus.
The camera also has an in-sensor 2x zoom that can take advantage of the huge 1/1.22-inch sensor size to take ideal portraits. Xiaomi ProCut and Ultra burst help you in terms of intelligently cropped, created professional-looking content and Xiaomi 12T Pro supports 8K video recording in full resolution and 4K video recording at 60fps.
On the other hand, the Xiaomi 12T features a triple camera array that includes a 108MP pro-grade primary camera, an 8MP ultra-wide camera, and a 2MP macro camera. Even in low-light situations, the camera's powerful low-light capabilities produce crisp, bright images.
Mega performance to power ultimate experience
The Xiaomi 12T Pro is equipped with the best Snapdragon processor with a leading 4nm TSMC manufacturing process, which significantly improves CPU and GPU performance by 16.7% and 11%, respectively, and reduces power consumption by 33%.
In addition, the handset has a structural system for the ultimate heat dissipation of the vapor chamber, which is 65% larger with 125% higher thermal material coverage than its predecessor, Xiaomi 11T Pro. In layman's terms, the Xiaomi 12T Pro offers a better and smoother user experience.
Mega battery to extend your favorite moments
Even among Xiaomi's flagship smartphones, the Xiaomi 12T Series is slightly ahead because of its enormous 5,000mAh battery juice paring it with the 120W Xiaomi HyperCharge. Both can be charged to 100% in as little as 19 minutes and can go up to 13.5 hours of screen-on time.
Additionally, both devices learn users' daily charging routines to optimize long-term battery health. Users can confidently go anywhere, do anything, and never miss a moment thanks to Xiaomi's long-lasting battery, HyperCharge, and Xiaomi's AdaptiveCharge.
The stunning display meets stunning design
Both the Xiaomi 12T and Xiaomi 12T Pro sport a 6.67-inch CrystalRes AMOLED display that provides a massive viewing experience. With 1220p resolution and over 68 billion colors, both are perfectly designed to balance clarity, color, and power efficiency. Meanwhile, the display's efficiency was also enhanced by smart algorithms such as Xiaomi AdaptiveSync, which dynamically adjusts the refresh rate based on the content viewed. Then, its Xiaomi Adaptive Reading mode reduces the amount of blue light being emitted to improve eye comfort and is also for battery efficiency.
The Xiaomi 12T Series is distinguished by an iconic premium design element. The curved frosted back panel reduces fingerprints on the back panel while also providing a compact in-hand feel. This complete flagship design language is available in three stunning colors: Black, Silver,
Pricing and Availability
The all-new Xiaomi 12T is priced at PHP 26,999, while Xiaomi 12T Pro is priced at PHP 37,999 – Unbeatable prices for a flagship series. To spice up the offer, both phones will be available with flexible 0% interest installment plans via Home Credit for up to 18 months. Plus, the perks for those who will pre-order from November 18 to 29 will get a Xiaomi S1 Active Watch as a freebie, which is worth PHP 8,999. Definitely an incredible deal, so don't miss out.
Articles To Read: