Beijing-Hong Kong, China, September 09, 2021–A number of days remaining for the Xiaomi 11T Series to be fully released in the market–Now Xiaomi announces that the Xiaomi 11T Series will have 3 Android System Upgrades and 4 years of Security Patches. This means, that both the standard and pro versions of the series will get Android 12, 13, and 14 (if the series is Android 11-ready out of the box). On the other hand, security patches or optimization will get up to 4 years.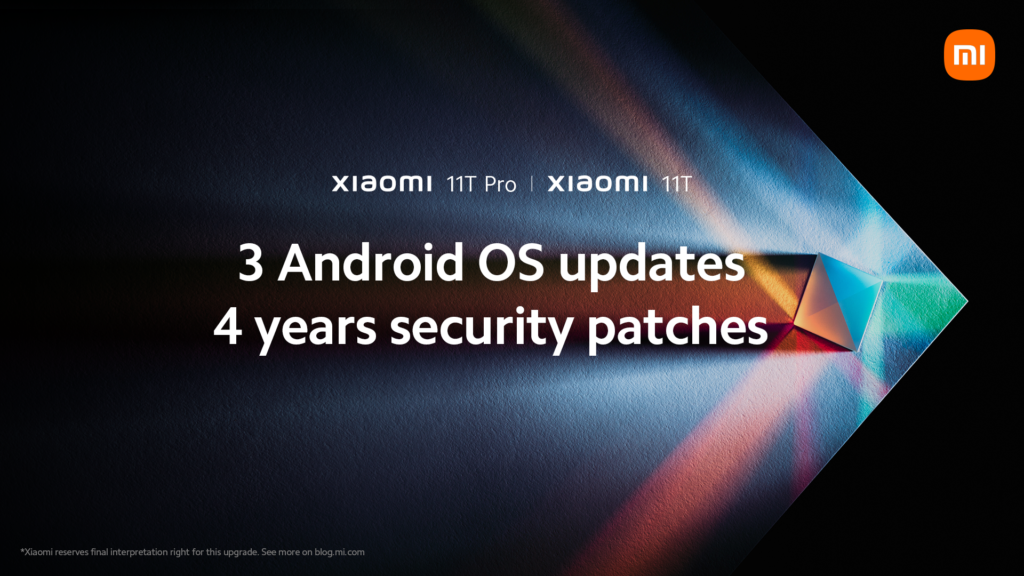 Once we read this announcement, we thought of this as a game-changing experience throughout other devices, in case this approach will succeed in the hearts of Xiaomi flagship users.
It is also worth noting what Albert Shan, Head of Product & Technology, Xiaomi International, said, "With the continuous improvement made to smartphone hardware, the life cycle of a smartphone is gradually lengthening, meaning users aren't required to replace their smartphones as frequently. For this reason, more consumers place great importance on receiving the latest operating system updates, along with the latest features."
"Xiaomi is committed to providing users with industry-leading hardware and lasting performance. In continuation of this commitment to users, Xiaomi is further extending the life cycle of Xiaomi's smartphones by ensuring three generations of Android operating system updates. This way, users can choose to use their current devices for a longer period, and enjoy the latest features along with it. At the same time, we will also provide users with security updates that ensure their devices operate securely for a longer period of time," he added.
This comment will surely ease the pain of our several fellow Mi Fans, who were not happy with the after-sales support they are receiving after a year or two of purchasing their Xiaomi smartphones.
Disclaimer according to Xiaomi
"The availability of Android operating system upgrades and features may vary from device to device and from market to market. The availability of the update will depend on a variety of factors including, but not limited to, the complexity of the update, local regulations, market, and other factors."
Articles To Read: